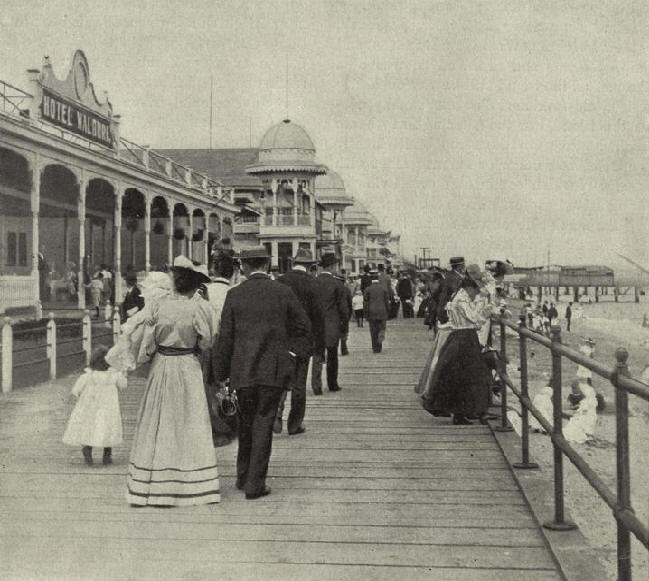 This is from a great site called
A History of Staten Island, New York
, which has plenty of historic photos, and other items of historical interest as well. Definitely worth a visit to see what this little Island of ours is all about!
You know you are from Staten Island when...
You refer to Manhattan as 'the city.'
You call the ferry 'the boat.'
You can name all four bridges.
You've gone sledding at LaTourette.
It takes you a half hour to get to your friend's house... and they
live less than a mile away.
You have fond memories of the metal box outside your front door
where the milkman put glass bottles of milk
You know it's Prince's Bay, not Princess Bay.
You would never swim in the water here.
You take pride in being from the ' South Shore ' or ' North Shore
'
At least one of your relatives or neighbors speaks Italian.
You remember where EJ Korvettes was.
Majors department store was a big deal when it opened in Mariners
Harbor.
You know its The Outerbridge Crossing not the Outer Bridge.
You have gotten into arguments with people who think Long Island
is the fifth borough.
You or someone you know has more than one matching velour jogging
suit in their closet.
You take fresh mozzarella and prosciutto for granted.
Every year you went to the New Dorp/Curtis game before
Thanksgiving dinner, even if you didn't go to either school.
You recall Weisglass Milk and Weisglass Stadium.
You know the difference between Richmond Road, Richmond Avenue,
and Richmond Terrace.
You know that 'Mike' or 'Nick' own all the good diners.
You remember the sound of the SIRT gates going down when a train
approached.
You remember the 'orange' home delivery bread trucks from
Holtermann's bakery.
There are now 20 families living in town homes where there used to
be one family living in a cape cod.
You remember trying not to slip and slide around on the wicker
seats from the old SIRT 'olive colored' trains.
Your car cannot fit between the driveways of two houses
You know that we don't have apartment houses, we have Projects.
You've eaten at the Victory Diner at 3:30 am
You have fond memories of Bacci, Steinman's, Cosmo's, Al Deppe's,
Demyan's Hofbrau and Tavern On The
Green.
New Dorp Lane was simply referred to as 'The Lane' and Richmond
Avenue was simply 'The Avenue'
You remember when there were only about four or five traffic
lights along Hylan Blvd from Richmond Avenue all the way to the Conference House.
You know every back road to the Verrazano.
You remember a horrible mid-air collision where one of the burning
airliners fell into Millers Field in New Dorp.
Goodhue and Tompkinsville pool brings back fond memories.
You remember Wetsons, Goodys and Jack in the Box
You remember movies at The Lane, The Ritz, The Star, The
Tompkinsville, The St. George, The Paramount.
You know that a chocolate egg cream doesn't actually have any egg
in it.
You remember the trains above ground before they were put
underground.
It was a nickel to ride the bus with your bus pass.
You went to the concerts every Wednesday evening in the summer at
Silver Lake.
You referred to the King's Arms as "the Arms" and called it the
Queen's Legs at least once.
Pal Joey's "slice of pizza and a coke" was 25 cents
You know where Travis is.
You made Al Deppe's chicken dance for a penny.
You know that we have an Armory and where it is
You remember when Father Capadano Blvd was simply called Seaside
Blvd
You put pennies on the SIRT tracks so the trains would flatten
them.
Sphere: Related Content